Tell us about your operating conditions – and we´ll look after the details (e.g. your temperature fluctuations) … as well as all standards and approvals (with our own UL Client Test Data Program). Our highly-diverse experience covers industrial plant, telecommunications, measurement technology and medicine.
Here we present some selected customer applications.
Electronic surgical equipment
The VIO 300D high-frequency surgical system uses thermal energy (electric current) to cut, coagulate, devitalise and vaporise tissue. Its areas of application include open surgery, laparoscopy and endoscopy.
Details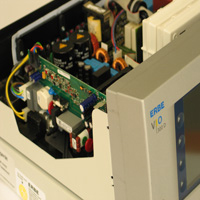 Customer application:
VIO 300D, high-frequency surgical system for cutting, coagulating, devitalising and vaporising tissue using thermal energy (electricity) Areas of VIO 300D
Application:
In open surgery, laparoscopy and endoscopy, gynaecology, urology, abdominal surgery, neurosurgery, orthopaedics, ENT etc.
Special features of the VIO 300D:
modular structure: can be configured for tailor-made use according to each specific discipline, symptom or operation, unique new preview facility for enhanced patient safety, interactive, simple and safe to use (display), ReMode function (remote control), plug & play
Power supply requirements:
Nominal voltage range 100-230V (power supply should automatically recognise input voltage), overvoltage protection, ACFAIL indicator
4 outputs: 5V / 4500mA, +15V / 500mA, -15V / 200 mA, 24V / 1500 mA. All output voltages should be laid to one plug connection
Adjustment to temperature changes in surgical equipment (external cooler and foam-rubber covering for air conduction)
Maximum power output 70W, overload protection
Dimensions and installation position exactly predefined, calling for a highly compact overall construction
Compliance with medical technology standards (UL60601), high level of EMC requirements, UL approval
Realisation:
Wide input range with active PFC
MGV took over integration of the mains switch (on the integrated circuit card) to save mechanical fitting on the front panel by the customer
One output for the low voltages (4x Vo on one plug connection) and an additional output for another power unit in the VIO 300D
Close cooperation with Erbe and special air conduction in the power supply for optimal synchronisation of air ducts using external cooler and foam-rubber covering (operates at up to 60°C)
Exact compliance with predefined dimensions 90 x 230mm, printed circuit board standing on edge
Low emission values easily complied with as required, in spite of restricted possibilities for internal interference suppression (due to low-frequency leakage currents set by medical standards)
Résumé:
In this application, the circuit concept introduced by MGV based on "flyback converters with synchronous rectifiers" offers several benefits and without it, the power supply could not have been realised in the requisite form and quality. The secondary-side synchronous rectifiers allow the output voltages to be maintained within the given tolerance limits without requiring subsequent stabilisation. Without synchronous rectifiers, the circuit complexity and power losses would have been significantly higher. As a result, efficiency has been considerably increased and it is actually possible to house the device in the predefined space.
The 100W UPS with load management is used in robots offering various types of kinematics (vertical and horizontal jibs, linear-axle robots) for loads of between 4 kg and 300 kg, and in auxiliary axles for positioning robots and work pieces.
Details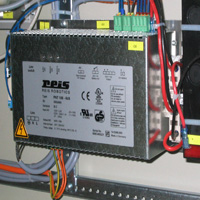 Customer application:
Robots with various kinematics (vertical and horizontal jibs, linear-axle robots), for loads of between 4 kg and 300 kg and additional axles for robot and work piece positioning Robotics Applications: Automobile industry and small and medium-sized industrial enterprises
1. Welding and spot welding
2. Automated foundry and injection-moulding operations, as well as downstream processing
3. Assembly and handling, e.g. clip assembly for automobile trims
4. Coating plants, e.g. profile extrusion on vehicle discs
5. Laser plants for plastics processing (vehicle interiors) and metal processing (cutting 3D sheet-metal parts) and many others
Special features:
the integrated, programmable safety controls for personal safety called for a no-break power supply with load management. With this power supply it is possible to continue the actual value of the servo-axle (robot position) reliably even in the event of a power failure.
Power supply requirements:
One output voltage 6.5 VDC, variable by 10%, output current limit
Input voltage 120 VAC / 220-240 VAC, inrush current limit
Load management: buffering 15h, accumulator recharging, total-discharge protection
Exact dimensions specified by customer (207 mm x 83 mm x 115 mm)
High level of EMC requirements, UL approval
Realisation:
It was necessary to build on the technology offered by an existing power supply from another manufacturer
Load management: charging the accumulator while switch-control is linked to the mains (charging voltage 13-15 VDC), total-discharge protection in the case of longer periods of storage (accumulator switches off at Ubat <10,5VDC), accumulator management and hold-up time up to 15h (depending on accumulator capacity)
A totally-discharged accumulator can even load while use is being made of the output voltage
MGV´s power-supply controller monitors load management and indicators (LEDs for input and output voltage, power fail and accumulator monitoring)
Résumé:
"This time we have simply continued our good and unproblematic co-operation with a product designed specifically for Reis. Our previous positive experience with MGV in terms of value for money, extremely reliable technology, as well as quick and competent support, has again been confirmed in the case of this special solution. In some cases, work was even finished ahead of schedule, facilitating precise project planning."
Georg Berberich, Head of Hardware Control Development at Reis Robotics.
Digital X-ray detectors (based on amorphous silicon), which are used as cameras, are for example required for medical applications, as well as in industry and other sectors, including pipeline inspection and archaeology.
Details
Customer application:
Digital X-ray detectors based on amorphous silicon for use as cameras Areas of Application:
1. Medical: radiotherapy, cancer therapy, dentistry and veterinary medicine
2. Industrial: non-destructive, real-time materials testing, for instance in the automobile and aircraft industries e.g. fully-automated X-ray testing for castings, including steering knuckles, during mass production e.g. 3-D reconstruction of complex components, such as engine blocks, to check for flaws, fractures, hair cracks etc.
3. Others like pipeline-inspection or archaeology
Special:
X-rays can cause malfunctioning and destroy power supplies. Presence of ionising radiation calls for long load lines between the power supply and the camera, which leads to unusually high drops in voltage.
Power supply requirements:
3 output voltages: 5V/5A , +12.5V/5A , -12.5V/5A
wide input range: 80 – 240 VAC
environment: aggressive, damp, dirty, human and animal medicine
compliance with medical technological standards and UL approved
Realisation:
converter was not integrated directly into the camera
power supply regulates high drops in voltage of approx. 3V per load line. This requires a sensing wire for each output to measure the voltage in the connected appliance.
installed in an extremely robust, dust and waterproof IP67 cast-aluminium casing with handle and feet, allowing the power supply to be transported by hand.
being sealed, conventional external fan cooling was not possible, so natural convection was used to cool the system
Résumé:
A complex specification which could not be entirely met by any standard power supply. PerkinElmer engineers had already gained positive experience with a special solution developed earlier by MGV.